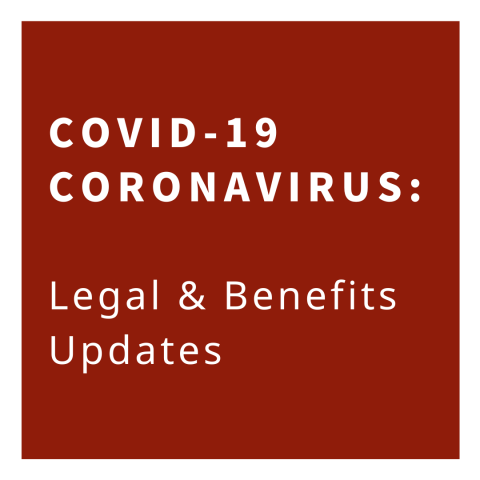 The coronavirus created changes to public benefits, new financial help and more. Here we keep a list of important changes to help Vermonters and community partners.
COVID-related topics on this page include:
Housing & Utilities
Work & Pay
Money & Food
Health Care
Other Topics
HOUSING & UTILITIES
Rent help
Vermont Emergency Rental Assistance Program (VERAP)
The VERAP program is winding down and it has been offering limited benefits. VERAP is not accepting new applications for rent assistance. Learn about the end of the Vermont Emergency Rental Assistance Program (VERAP).
Scroll down for FAQs about eviction and the end of VERAP.
Reach Up Emergency Rental Assistance (RUERA) deadline is June 9
Families currently getting Reach Up benefits can get rent paid by applying with their DCF-ESD case worker for RUERA (Reach Up Emergency Rental Assistance). New applications for the RUERA program must be received by 11:59 p.m. on June 9, 2023.
Evictions
End of the long-term COVID emergency hotel / motel program
UPDATED: Learn more about the end of this program.
Emergency housing
The Department for Children and Family's (DCF) Economic Services Division offers housing supports for homeless households. For more information or to apply, contact the Benefits Service Center at 1-800-479-6151. If it is after business hours or on a weekend or holiday, call 2-1-1.
When you apply for shelter with DCF, they will let you know if a shelter has opened in your area. You can also call 2-1-1 to find out if there is a warming shelter or other shelter in your area.
If you are denied or terminated from a shelter, call us for help at 1-800-889-2047.
During the winter months of December 15 to March 15, you are eligible for GA emergency housing in a motel if you are homeless and meet other eligibility criteria, even if you have used up all your GA days in the past year. From November 15 to December 15 and from March 15 to April 15, this expanded eligibility will be in place only when the weather is very cold. You can check the DCF website to see when these special rules will be in place in your region over the current three-day period.
If you stay in a shelter or motel, you need to participate in "coordinated entry." Through coordinated entry, you will be assigned a housing case manager who will help you access subsidies and programs to help you get permanent housing. To learn more about coordinated entry, call 2-1-1. If you worked with your case manager to apply for a subsidy or other program and your application was denied, call us for help at 1-800-889-2047.
Veterans can get housing help from the Supportive Services for Veteran Families (SSVF) program at 1-844-820-3232 (toll-free); the National Call Center for Homeless Veterans at 1-877-424-3838 (toll-free); or Vermont Office of Veterans Affairs at 1-888-666-9844 (toll-free). Vermont Veterans facing eviction or foreclosure should contact the Safely Home project for advice and help.​​​​​​
Mortgages and foreclosures
Learn about mortgage payments, mortgage help, and foreclosures during the COVID-19 coronavirus crisis.
Vermont Homeowner Assistance Program (VHAP) helps homeowners
Update on 4/10/2023: The last day to apply for the VHAP program is June 12, 2023. Complete and submit applications on vermonthap.vhfa.org by 5 p.m. on that date.
The Vermont Homeowner Assistance Program (VHAP) provides grants of up to $30,000 to eligible homeowners who have financial problems because of COVID and are behind on expenses for the house they own and live in. The grants may help pay:
mortgage payments
mobile home loans
property taxes
homeowner's insurance premiums
association fees
utilities (sewer, water, electric, propane). 
Translated information is available. Look for the language choices in the upper-right corner of https://vermonthap.vhfa.org/. They include: Af Soomaali / Somali, العربية / Arabic, မြန်မာစာ / Burmese, Español / Spanish, Français / French, Kiswahili / Swahili, नेपाली / Nepali, Tiếng Việt / Vietnamese, 中文 / Chinese. 
Heat / Water / Septic / Electricity / Phones / Internet / Utilities
Renters and landlords: Habitability and heating in rental housing: Free resources available in Vermont to fix problems.
Homeowners: Learn about applying for the Vermont Homeowner Assistance Program (VHAP), a mortgage, property tax and utilities assistance program.

*translated information available

Homeowners: Learn about a new program from the Vermont Agency of Natural Resources that can help low- and moderate-income Vermont homeowners replace their failed or inadequate home water or wastewater systems. The Healthy Homes On-Site Program provides help to eligible property owners, including owner-occupied multi-family properties with up to four units. Visit the Vermont Agency of Natural Resources website for details.
Renters and homeowners who applied for help with their utility bills through VERAP (for renters) and VHAP (for homeowners) should contact their utility companies to tell them they applied for help. Some utilities say they will not disconnect Vermonters during the application process. If it is a private electric or natural gas utility, they cannot shut off your service while you have an application pending. To prevent a shutoff, give them your application ID number and the date you applied.
See our Heat, Energy and Water Assistance Programs page to learn about other ongoing programs that may help you get power, fuel, water and heat for your home.
If you need help dealing with utility payments, apply for financial help — see the programs above. Consider asking your utility company for a long-term payment plan. Your local Vermont Community Action Agency can help you.
Internet help from the FCC: The Affordable Connectivity Program (ACP) is an FCC benefit program that helps households afford the broadband internet service they need for work, school, healthcare and more. It gives a discount of up to $30 per month toward internet service for eligible households and up to $75 per month for households on qualifying Tribal lands. Eligible households can also receive a one-time discount to purchase a laptop, desktop computer, or tablet from participating providers. Learn more about the ACP program.
The FCC also announced that the Lifeline program will suspend some rules to help keep low-income Vermonters connected by phone and internet. Lifeline is a federal program that gives a $9.25 monthly discount on phone or internet service to eligible households. Learn how to apply.
Also, learn about a low-income internet program called Internet Essentials.
The Consumer Affairs & Public Information (CAPI) Division of the Department of Public Service can help Vermonters with regulated utility concerns. This includes electric, telephone, natural gas and private water service. They also try to help with cell phone services and broadband matters. You can contact them:
WORK & PAY
Unemployment
MONEY & FOOD
COVID-19 economic impact payments / stimulus checks
Learn more about the past economic impact payments / stimulus checks from the federal government. If you believe you did not get all or part of your stimulus payments, you have three years to claim the money. That's three years from the date the return is normally due.
Food
3SquaresVT is Vermont's food stamp program. 3SquaresVT is available to help you meet your family's food needs. Even if you have never received 3SquaresVT before, you should apply if your income has changed and your family is experiencing food insecurity. Learn more about 3SquaresVT.
Student loans
Learn about the help you can get with your federal or private student loans at this time.
Credit reports
Because of the COVID-19 pandemic, everyone in the U.S. can get a free credit report each week from all three national credit reporting agencies (Equifax, Experian and TransUnion) at AnnualCreditReport.com. This is available through December 31, 2023.
Property taxes
HEALTH CARE
Have you lost your health insurance?
If you have lost your job or health insurance, you may qualify for a special enrollment period which gives you 60 days to apply for a Vermont Health Connect plan. You don't have to wait until November. Learn more on our Vermont Health Connect pages.
You can apply for Medicaid at any time. If you are making less money or no money, it makes sense to see if you are now eligible for Medicaid. Learn more on our Medicaid pages.
To talk about health insurance options or problems, contact the Office of the Health Care Advocate (HCA). Call 1-800-917-7787 to speak with a health care advocate, or fill out our Help Request Form. The HCA is a free service for Vermonters.
Medicaid renewals start in April
The Medicaid renewal process will start again in April 2023. What does that mean for you? Find out!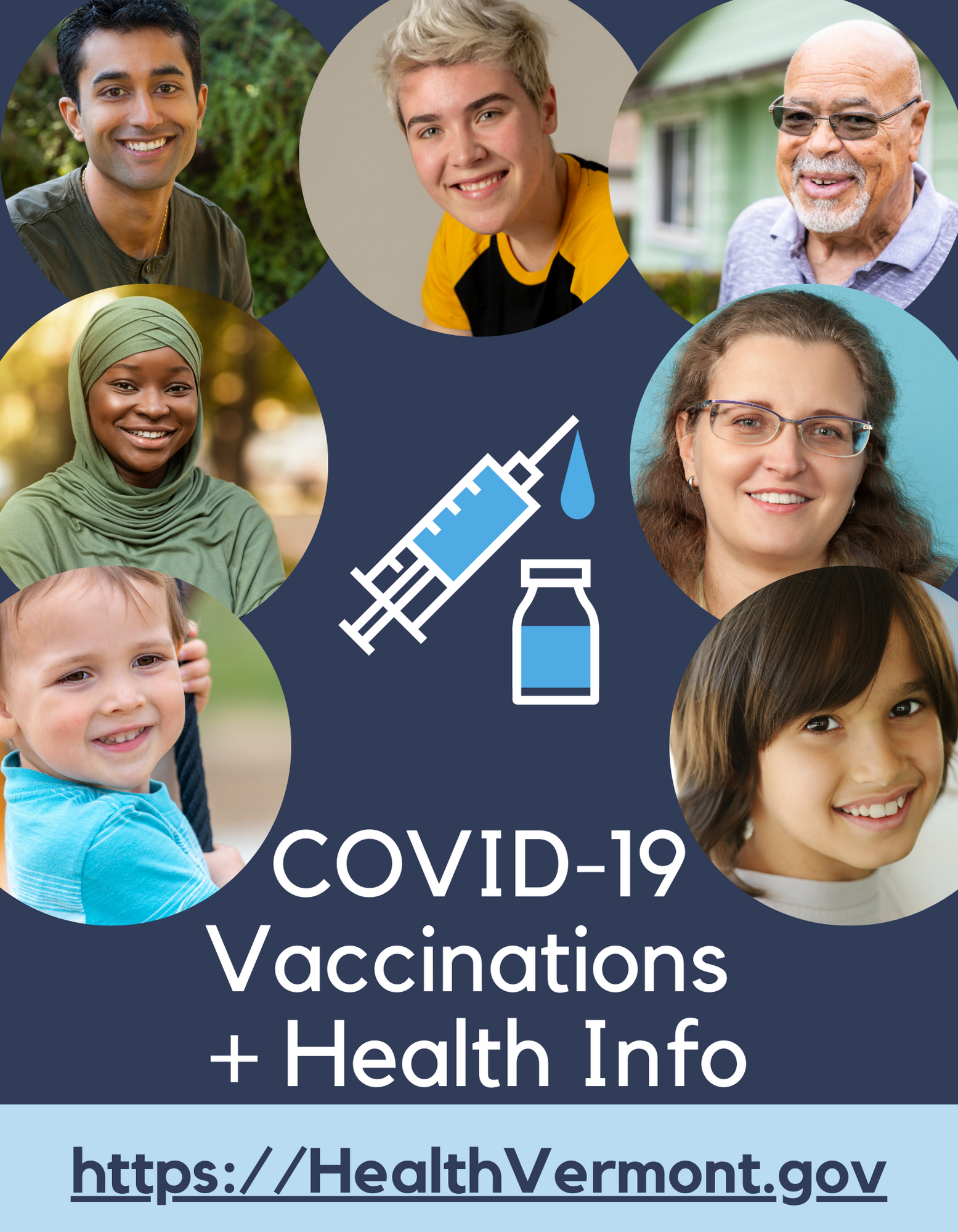 COVID-19 vaccine and boosters
You can be vaccinated in Vermont even if you are not a Vermont resident.
Booster shots are available in Vermont. Learn more on the Vermont Department of Health website.
English language learners and people in immigrant/refugee communities can sign up a couple of ways. This includes calling the Association of Africans Living in Vermont (AALV) at 802-985-3106 or USCRI VT at 802-655-1963.
Homebound Vermonters can call their home health agency, or call 802-863-7240 (toll-free 1-833-722-0860).
Veterans of all ages who use VA Healthcare can call 802-296-5151. Veterans not enrolled in VA Healthcare can call 802-295-9363 extension 4004 or 5118.
The shots are free. You don't need to have health insurance. See the Vermont Department of Health (DOH) website to find a vaccination site or call 1-800-464-4343 toll-free. Translated information is also found on the DOH website or call that number and press 1. Translations in नेपाली (Nepali), Soomaali (Somali), Español (Spanish), Swahili, Kirundi, မြန်မာစာ (Burmese), العربية (Arabic), Tiếng Việt (Vietnamese) and Français (French).
Free rides for vaccination: Vermonters who don't have access to their own transportation can get a free ride to their vaccination. Find your local provider on the VPTA website and make a reservation in advance.
Immigrants, health care and the "public charge"
United States Citizenship and Immigration Services (USCIS) announced that immigrants can use health care to get treatment or preventative services for the COVID-19 coronavirus without having it held against them for public charge purposes. Learn more about Public benefits and the Public Charge Rule for Immigration.
OTHER TOPICS
Tips for "Remote Hearings" — Court Hearings by Video or Phone
Do you have a remote hearing in Vermont? "Remote" hearings are hearings where some or all of the people participate by video or by phone. Read our tip sheet to know how to prepare for a remote court hearing.
Check the Vermont Judicary website for updates on court operations and instructions. The website also includes where to find forms, how to file documents, and how to ask for records.
Translated COVID-19 coronavirus information 
Recent updates to this information
6/1/2023
5/31/2023
5/25/2023
5/22/2023
Families currently getting Reach Up benefits can get rent paid by applying with their DCF-ESD case worker for RUERA (Reach Up Emergency Rental Assistance). New applications for the RUERA program must be received by 11:59 p.m. on June 9, 2023.
4/10/2023
The last day to apply for the VHAP program is June 12, 2023. Complete and submit applications on vermonthap.vhfa.org by 5 p.m. on that date.
2/23/2023
2/8/2023