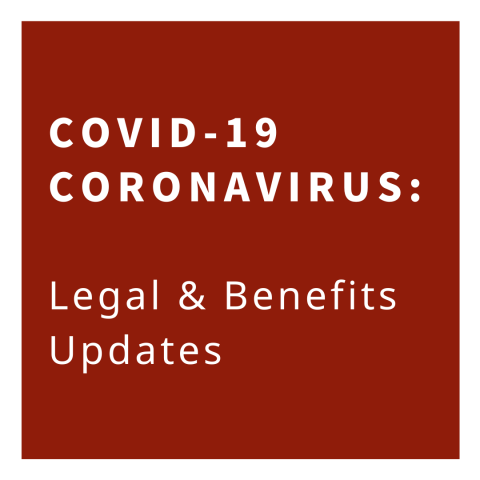 The outbreak of the COVID-19 coronavirus has created many changes in the way Vermont courts are operating, changes to public benefits, and more. Here we will keep a list of important changes to help Vermonters and community partners.
If you are having a legal or benefits problem related to the COVID-19 coronavirus outbreak, contact us for legal help. Use the following link for help from the Office of the Health Care Advocate.
Topics on this page include:
Housing & Utilities
Work & Pay
Money & Food
Health Care & Long-Term Care
Other Topics
Free legal clinics for Vermont seniors 60+
Vermont Legal Aid is hosting virtual legal advice clinics by phone. Vermont seniors — age 60 or more — can ask legal questions about COVID-19 or any civil legal question. We can help with health care, social security, consumer debt, housing, unemployment and more. Learn how to schedule an appointment.
Virtual Town Halls: Join online or by phone, or watch past events
We're hosting a series of virtual town halls on legal issues during the coronavirus crisis. You can attend
online or by telephone
.
Schedule of upcoming town halls:
How to join the town hall:
Watch past town halls:
Wednesday, August 26, at 10 a.m.:

Fair housing protections

. Watch the video on

Facebook

. Vermont Legal Aid attorney Erika Johnson and special guests United States Attorney Christina Nolan and Civil Rights Coordinator Jules Torti from the U.S. Attorney's Office for the District of Vermont talked about topics in housing discrimination. Topics included sexual harassment in housing, emotional support animals, discrimination based on receipt of public assistance or disability, and more.

Explore the fair housing section of our website

.

Follow this link to watch all of our town halls on these topics: special education, taxes, health care, long-term care, debt, unemployment, stimulus checks, rent help and mortgage help.  
HOUSING & UTILITIES
Paying rent
There is no rule, executive order or new law that says tenants don't have to pay rent during the emergency period. The obligation to pay rent has not changed.
If you have a very low income or are homeless, call 2-1-1.
Rent help
Vermont Emergency Rental Assistance Program (VERAP) – Now available
Do you need help paying rent, need money to move, or help paying utilities? Learn about VERAP, a new rent and utilities assistance program.
Please Note: The VERAP application website and call center aren't working well right now. We know they are working on it, and are hopeful the problems will be corrected in the next days or weeks.
Learn more about the Vermont Emergency Rental Assistance Program (VERAP) and its requirements.
Evictions
Are you a tenant? Learn how you may be protected from eviction in Vermont.
Free mediation available for landlords and tenants
The mediation program has closed. There may be a new program in 2021 so check here occasionally for updates. 
A note to Vermont landlords
Do you have questions about getting back rent from a tenant? You can get answers from the Vermont Landlord Association at 802-985-2764 or 1-888-569-7368. You do not need to be a member of the association to get information on the back-rent assistance program or other COVID-related rental issues including:
landlord access
tenant interactions
health and safety requirements, and
the current status of evictions.
Hotel "evictions" due to governor's mandate
Have you been asked to leave a hotel or rental property because of the governor's rules to restrict non-essential lodging? If you think you are being sent away in error, send an e-mail to ACCD.Covid19@vermont.gov and describe your situation. The Vermont Agency of Commerce and Community Development (ACCD) can address each instance based on the details.
Are you a tenant in a motel or hotel?
In Vermont, whether you have a written lease or not, a hotel / motel resident becomes a "tenant" when your stay is exempt from the VT rooms and meals tax. This happens when you have occupied a room for at least 30 consecutive days. (Note: You are not legally a tenant if the General Assistance program of the Department for Children and Families pays for your stay.) 
If you are a tenant, you cannot be asked to leave right away. Normal legal steps for an eviction must be followed. If you think you are being sent away in error, contact us for help at 1-800-889-2047 or fill out our form. You can also send an e-mail to ACCD.Covid19@vermont.gov and describe your situation.
If you need help with emergency housing, call the Department of Children and Family's Benefits Service Center at 1-800-479-6151. Or you can call 2-1-1 or go online to Vermont211.org.
Locked out by landlord
It is still illegal for your landlord to lock you out, get rid of your belongings, or interfere with your utilities without going through a court process. For more information, see our page about Lockouts, Utility Shutoffs and Your Belongings.
If your landlord tries to change your locks or turn off your utilities, contact us right away to ask for help.
Emergency housing
The Department of Children and Family's (DCF) Economic Services Division is extending housing supports for homeless households. For more information or to apply, contact the Benefits Service Center at 1-800-479-6151. If it is after business hours or on a weekend or holiday, call 2-1-1. Follow this link for the latest version of the "temporary housing waiver and variance of rules."
Some shelters are reopening. When you apply for shelter with DCF, they will let you know if a shelter has opened in your area. You can call 2-1-1 to find out if there is a warming shelter or other shelter in your area.
If you are denied or terminated from a shelter or the state's motel program, call us for help at 1-800-889-2047.
If you stay in a shelter or motel, you need to participate in "coordinated entry." Through coordinated entry, you will be assigned a housing case manager who will help you access subsidies and programs to help you get permanent housing. To learn more about coordinated entry, call 2-1-1. If you worked with your case manager to apply for a subsidy or other program and your application was denied, call us for help at 1-800-889-2047.
Veterans can get housing help from the Supportive Services for Veteran Families (SSVF) program at 1-844-820-3232 (toll-free); the National Call Center for Homeless Veterans at 1-877-424-3838 (toll-free); or Vermont Office of Veterans Affairs at 1-888-666-9844 (toll-free).
Tenant rights during the pandemic 
As a tenant, you have rights. Even during this pandemic, your landlord cannot take away these rights. This includes: 
your right to the quiet enjoyment of your residence
your right to privacy
your personal freedom to have visitors, and
your right to come and go from your residence.  
The Governor of Vermont issued executive orders to keep Vermonters safe from this pandemic. However, these orders do not allow owners/landlords of private residential units or complexes to unreasonably restrict their tenants' rights. You may report these kinds of problems or concerns to the Office of the Vermont Attorney General.
Landlords entering your rental unit or showing it to other people
The regular rules of landlord access to your home apply now during the pandemic. But the landlord and anyone the landlord brings into your home have to follow CDC and Vermont Department of Health guidelines.
Learn more about the landlord access law.  
If you are worried about your landlord, realtor or repair people coming into your home, talk with your landlord about your concerns. Ask your landlord to keep a log of everyone they allow into your apartment.  
We advise people who have health issues that make them at extra risk of exposure to make a reasonable accommodation request. Send a letter to your landlord to ask them to make adjustments to how they access your home due to your health issues. These are some adjustments you can ask for:  
to do only virtual showings 
to do fewer showings 
don't do showings several times a day (too much cleaning) 
ask that landlords and visitors wear both gloves and masks, and/or 
ask that landlords and visitors touch as little as possible (leave interior doors open so that those don't need to be touched) 
Find a sample letter on our Reasonable Accommodation page. If your landlord denies your reasonable accommodation request, contact us right away to ask for help. ​​​​​​
Mortgages and foreclosures
Learn about mortgage payments and foreclosures during the COVID-19 coronavirus crisis. 
Heat / Water / Electricity / Phones / Internet / Utilities
If you have no heat, water or electricity, contact us right away to ask for help.

Do you need help paying utilities or rent, or do you need money to move? Learn about VERAP, a new rent and utilities assistance program.

In March 2020, after Vermont Legal Aid submitted a letter requesting action to prevent shutoffs, the Vermont Public Utility Commission ordered a temporary moratorium on involuntary natural gas, electric and landline phone service disconnections. On December 22, 2020, it was reinstated. The Vermont Public Utility Commission has directed the state's regulated utilities to stop any disconnection of utility service due to nonpayment of electricity, natural gas and landline phone bills. This moratorium will last through May 31, 2021. Charges accrue during this time. You will have to make up the payments you missed. Consider asking your utility company for a long-term payment plan. Your local Vermont Community Action Agency can help you.

Watch out for scams! On January 13, 2021, the Vermont Attorney General said scammers were contacting Vermonters to say they had to pay or their power would be shut off. Hang up! Don't give them information! You can call your power company after looking up their official phone number if you'd like. Learn more about the scam.

The FCC also announced that the Lifeline program will suspend some rules to help keep low-income Vermonters connected by phone and internet. Lifeline is a federal program that gives a $9.25 monthly discount on phone or internet service to eligible households. Learn how to apply.
Also, learn about a low-income internet program called Internet Essentials that offers two free months during this crisis. Follow this link for a list of other connectivity resources.
In addition, Vermont's Line Extension Customer Assistance Program (LECAP) provides up to $3,000 in assistance to qualifying Vermonters who want to extend telecommunications lines to their homes. Hundreds of Vermonters without 25/3 Mbps broadband service live just beyond the reach of current cable and other Internet Service Provider networks. Learn about the program and its requirements.
The Consumer Affairs & Public Information (CAPI) Division of the Department of Public Service can help Vermonters with regulated utility concerns. This includes electric, telephone, natural gas and private water service. They also try to help with cell phone services and broadband matters. You can contact them:
WORK & PAY
Unemployment
If you lost your job or had your hours cut due to the COVID-19 coronavirus, you probably can get some help. You can apply for benefits even if your employer says not to. If you are self-employed, an independent contractor or freelancer, you could be eligible if you meet the other criteria.
Paid leave from work (sick leave & family and medical leave)
Read about paid leave in response to the COVID-19 coronavirus crisis. 
Unsafe workplace
If you think your workplace is not safe, contact Vermont's Occupational and Health Administration (VOSHA) to discuss your concerns. You may be asked to fill out a complaint form about the hazards.
Complaints are retyped and your name and personal information are removed. Employees are protected from discrimination for filing a complaint with VOSHA. If you are a victim of discrimination because you filed a complaint, contact VOSHA within 30 days. If you are discriminated against, you may also file a private action (law suit) against your employer.
Hazard pay
The State of Vermont created a Front-Line Employees Hazard Pay Grant Program for certain groups of employees who worked between March 13 and May 15, 2020. These employees may be able to get $1,200 or $2,000 in hazard pay through their employer. The program expanded to cover more workers. Learn more about the hazard pay program.
Small business help
For information on help for businesses, see the Vermont Agency of Commerce and Community Development website. Find some translated small business information on the New Americans in Vermont website and the US Small Business Administration (SBA) website. 
MONEY & FOOD
COVID-19 economic impact payments / stimulus checks
Learn more about the economic impact payments / stimulus checks from the federal government. 
Food
Hunger Free Vermont is posting information about how to access food, including meals for school children and seniors, WIC, foodbanks and 3SquaresVT. You can also call 2-1-1 to ask about ways to get help with food.
3SquaresVT
3SquaresVT (known under federal law as the SNAP program and known commonly as "food stamps") can help you meet your family's food needs. Even if you have never received 3SquaresVT before, you should apply if your income has changed and your family is experiencing food insecurity.
Learn more about how to apply, and the laws and procedures for the 3SquaresVT program that have changed due to the COVID-19 coronavirus crisis.
Debt collection cases
If you got a notice of hearing, check the Vermont Judiciary website or call your courthouse ahead of time. You may get approved to attend your court hearing over the phone or by video instead of going to the courthouse. 
If you have received a Summons and Complaint, you need to send a written Answer to the court by the deadline (21 days from the day you were served by the sheriff, or 30 days from when you got the small claims complaint in the mail). You may be able to send the court your answer by email; see above or check the Vermont Judiciary website for ways to do this. If you can't email, you can mail your Answer to the address of the court on your Summons. Or, you can take it to the courthouse and put it in a dropbox in the lobby.
Debt resources
Banks and loans
Some banks say that you should call them about your COVID-19 related hardships. Some are saying publicly that they will try to work with customers on loan payment, repossession or foreclosure. Here's a list of national banks and financial institutions that said they can help in some way. We don't have information on Vermont banks, so call your bank and ask how they can help you.
Student loans
Learn about the help you can get with your federal or private student loans during this crisis.
Credit reports
Because of the COVID-19 pandemic, everyone in the U.S. can get a free credit report each week from all three national credit reporting agencies (Equifax, Experian and TransUnion) at AnnualCreditReport.com. This is available through April 20, 2022.
Scams
Beware! Learn how scammers have devised ways to take money from people during this crisis.
Social Security
All local Social Security Administration (SSA) offices are closed to the public for in-person service unless you have an appointment.
If you do have an in-person appointment, you will have to answer medical screening questions. You will not be allowed in the office if SSA field office staff decide there is a risk you could spread COVID-19. If you are sick, call to reschedule your appointment, or ask to meet by phone.
See recent Social Security updates on the SSA website at https://www.ssa.gov/coronavirus/.
If you do need an in-person appointment (for example, because your disability makes it harder for you to do business over the phone), you can call to ask for an appointment.
Find the addresses and phone numbers for the Vermont Social Security offices on our Social Security page.
Most hearings and interviews with SSA offices are happening over the phone. If you are waiting for an Administrative Law Judge (ALJ) hearing, you will be asked if you agree to have the hearing by phone. If you do not agree, and you wish to wait for a video or in-person hearing, you may have to wait longer.
Did SSA tell you that you were overpaid? You may want to ask for a waiver. SSA says they will automatically waive overpayments that happened during the COVID-19 crisis if all three of these things are true:

The overpayment happened between March 1 and September 30, 2020.
SSA did not process information about changes in your life. For example: You get SSI, you started receiving unemployment benefits or other new income, and you reported this to SSA, but SSA kept paying you your full benefit anyway.
You received the overpayment notice before December 31, 2020.
If these three things are true, SSA says you can ask for a waiver over the phone. However, our advice is to ask for the waiver both over the phone and in writing. Your written request can be simple. The letter only needs to state your name, the date on the notice, and the fact that you are asking for a waiver. Find the addresses, fax numbers and phone numbers for the Vermont Social Security offices on our Social Security page.
SSI and other income (including unemployment)
Social Security Administration (SSA) is not processing or collecting overpayments at this time. But if you get Supplemental Security Income (SSI) and you have other income during the COVID-19 crisis, including unemployment payments: 
you may end up getting an overpayment notice, or  
your SSI benefits may stop later based on the income you get now.  
Here is how you can prevent this: 
Report your unemployment payments or other income to Social Security. You should do this within 10 days of when you start getting income from any source or when your income changes. Note: You do not have to report your stimulus check from the federal government. But you do have to report other payments from the federal government or the state, as well as any wages you earn. 
Report changes to your income to Social Security in writing. We recommend sending the information about your income to your local Social Security office by fax, or using certified mail, return receipt requested. Both ways give you proof of when you sent information to Social Security. You will need this if there is a dispute later.  
Find the fax numbers and mailing addresses for the Vermont Social Security offices on our Social Security page. 
If the amount of income you get besides SSI would put you over the SSI maximum benefit amount for your household, ask Social Security in writing to "suspend", or pause, your SSI payments. This should stop Social Security from trying to collect an overpayment from you later on. 
Taxes
Property taxes
Tax sale due to unpaid property taxes: If you've been told that your home or property is going through a tax sale, let us know. In addition, contact your town. Find out if they are postponing the sale until after the coronavirus crisis is over.
HEALTH CARE & LONG-TERM CARE
Health insurance & Medicaid
New Financial Help for Health Insurance
You may be eligible for new financial help for health insurance due to the American Rescue Plan. Learn more.
Have you lost your health insurance?
If you have lost your job or health insurance, you may qualify for a special enrollment period which gives you 60 days to apply for a Vermont Health Connect plan. You don't have to wait until November. Learn more on our Vermont Health Connect pages.
You can apply for Medicaid at any time. If you are making less money or no money, it makes sense to see if you are now eligible for Medicaid. Learn more on our Medicaid pages.
To talk about health insurance options or problems, contact the Office of the Health Care Advocate (HCA). Call 1-800-917-7787 to speak with a health care advocate, or fill out our Help Request Form. The HCA is a free service for Vermonters.
Need health insurance? Vermont Health Connect has a Special Enrollment Period through May 14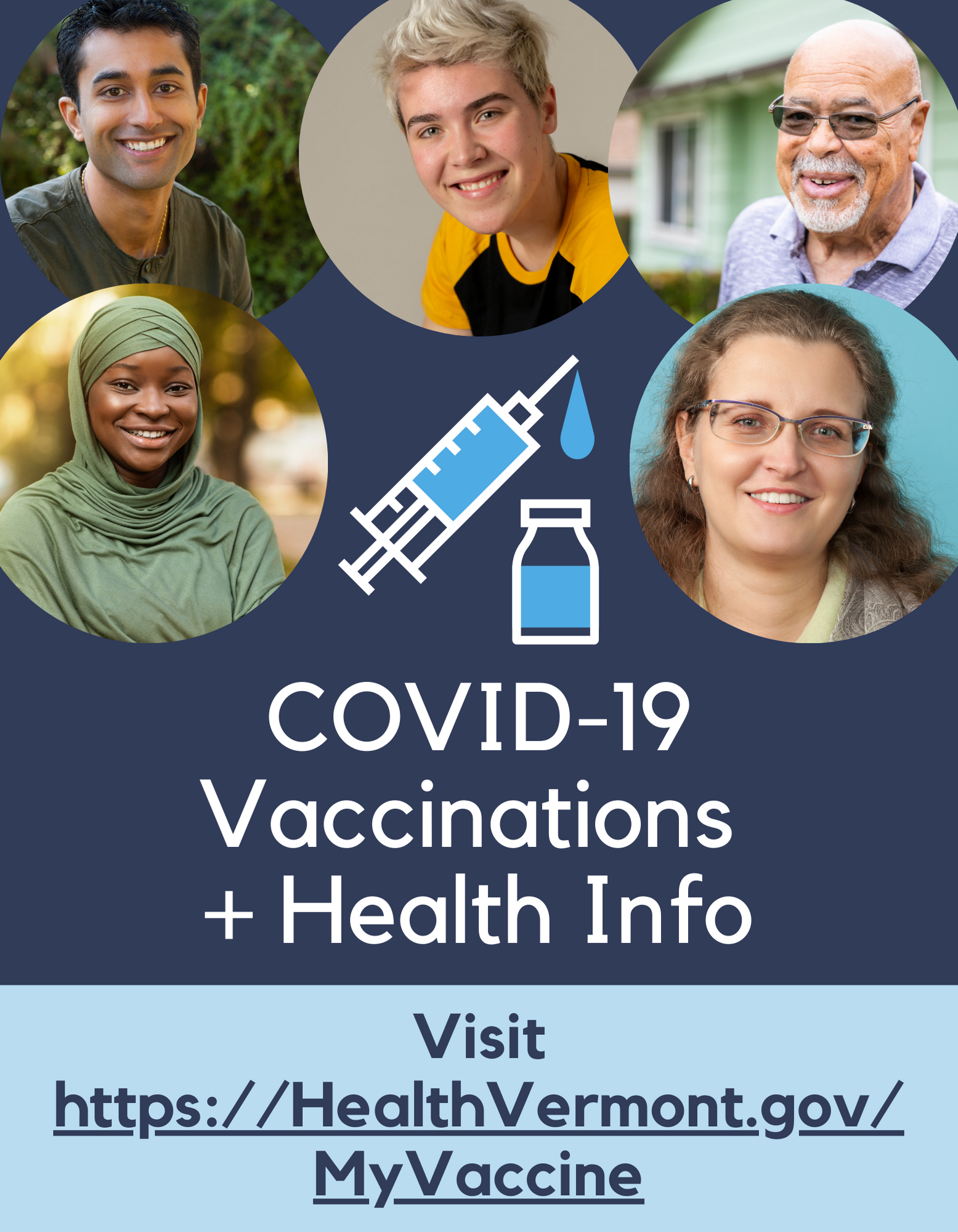 COVID-19 vaccine
Vermonters who are age 16 or older can sign up now for the COVID-19 vaccine.
Vermonters who are Black, Indigenous, or a person of color (BIPOC), including anyone with Abenaki or other First Nations heritage, can sign up a couple of ways. See the Vermont Department of Health website to learn how.
English language learners and people 16+ in immigrant/refugee communities can sign up a couple of ways. This includes calling the Association of Africans Living in Vermont (AALV) at 802-985-3106 or USCRI VT at 802-655-1963.
Homebound Vermonters can call their home health agency, or call 802-863-7240 (toll-free 833-722-0860).
Veterans of all ages who use VA Healthcare can call 802-296-5151. Veterans not enrolled in VA Healthcare can call 802-295-9363 extension 4004 or 5118.
Starting April 30: Vermont college students with out-of-state addresses can sign up.
The shots are free. You don't need to have health insurance. See the Vermont Department of Health (DOH) website to sign up or call 1-855-722-7878 toll-free. Translated information is also found on the DOH website or call that number and press 1. Translations in नेपाली (Nepali), Soomaali (Somali), Español (Spanish), Swahili, Kirundi, မြန်မာစာ (Burmese), العربية (Arabic), Tiếng Việt (Vietnamese) and Français (French).
Free rides for vaccination: Vermonters who don't have access to their own transportation can get a free ride to their scheduled vaccine clinic. Find your local provider on the VPTA website and make a reservation in advance.
Mental health and wellness supports
COVID Support VT is a grant-funded program offering mental health and wellness supports for Vermonters during the pandemic. Call 2-1-1 and talk to support counselors Monday - Friday from 8 a.m. - 8 p.m. for emotional support, connections to community resources and to have a listening ear. Join an online Weekly Wellness Group to learn self-care strategies for coping and relaxing. Download wellness resources available in many languages. Services are confidential and free.
Advance directives
Signing an advance directive during COVID-19
Vermont law gives instructions on how to create an advance directive. Normally the law says you should be with your witnesses when you sign. Because this was a problem for many during the coronavirus emergency, Vermont passed a new law. It temporarily lets people sign advance directives even when their witnesses are only available by phone or video.
I want to create an advance directive during the coronavirus emergency:
If you want to create an advance directive between June 15, 2020, and June 30, 2022, but you cannot physically be with witnesses:
Create or fill out an advance directive document with your health care wishes.

Identify two adults willing to be your witnesses. You must know each other, but witnesses cannot be your agent or your immediate family members (spouse, parent, sibling, child, or grandchild). Have witnesses be on the phone or a video chat while you sign and date your document.

Tell your witnesses: "By being my remote witness, you are attesting to the fact that I, the principal, seem to understand the nature and effect of this advance directive and seem to be free from duress or undue influence." Ask your witnesses if they agree. If they do, then follow step 4.

Write each witness's name, contact information, and relationship to you on the document. In the witness signature line, write "witnessed by phone/video because of COVID-19 restrictions."
If you follow these steps between June 15, 2020, and June 30, 2022, your advance directive will stay valid unless you change or revoke it.
I created an advance directive with remote witnesses before June 15, 2020:
Some people created advance directives during the emergency before the new law passed. If you created an advance directive with remote witnesses between February 15, 2020, and June 15, 2020, your document may be temporarily valid as long as you followed certain steps:
If you and your witnesses knew each other. Your witnesses must also be adults and cannot be your agent or your immediate family member,
If your witnesses were informed about the role of being a witness to an advance directive, and
If you included your witnesses' names and contact information on the document.
If you followed these steps and created an advance directive between February 15 and June 15, 2020, your document is valid until June 30, 2022. You should sign a replacement advance directive as soon as you are able.Learn more about advance directives.
Immigrants, health care and the "public charge"
United States Citizenship and Immigration Services (USCIS) announced that immigrants can use health care to get treatment or preventative services for the COVID-19 coronavirus without having it held against them for public charge purposes.
Long-term care / Nursing homes
Read about COVID-19 and the impact on nursing homes, long-term care facilities and senior centers.
OTHER TOPICS
Child custody and visitation during COVID-19 emergency
Vermont courts are postponing many court hearings and trials
The courts are doing some hearings over the phone or by video. Follow this link to learn more about court hearings in Vermont.
Tips for "Remote Hearings" — Court Hearings by Video or Phone
Because of COVID-19, most court hearings in Vermont are now "remote." That means some or all of the people participate by video or by phone.
Do you have a video or phone court hearing in Vermont? Read our tip sheet to know how to prepare for a remote court hearing.
New court filings
If you get any court papers, be sure to respond in the time you are given. Filing deadlines are still in effect.
Filing by email
During this health crisis, if you need to file a document or motion with a Vermont court, you can do so by email. As a "signature" the court will accept:
the filer's name typed in with "/s/" in front of it. Example: /s/ Joseph Smith

or an electronic signature

or a scanned signature.
Note: This does not apply to documents that need to be notarized. If you have a court form that requires a notary's signature (for example, a family court motion form or an application to waive filing fees), but you cannot find a notary due to the health crisis, call your court clerk. Ask them how to proceed.
Use the email address for your specific court division. Attach your filing (motion, answer, etc.) to the email. The subject line of the email must state the court division where it is being filed and the case docket number.
Find your court's email address, mailing address and phone numbers on the Vermont Judiciary website.
Even if you are filing court papers by email, you still need to send the opposing party in your case a copy of what you sent to the court. And you need to send the court a Certificate of Service to prove that you did this.
Check the Vermont Judicary website for updates on court operations and instructions.
Education
Special education
Learn about special education and the COVID-19 coronavirus crisis.
Students and their internet connection
Do you have students at home who don't have access to the internet? The Vermont Department of Public Service (DPS) has a website with resources for access from providers across the state. You can learn more on the DPS website or by calling 802-828-2811. You can also speak to your school or district if you are having internet connection problems that are making it harder for your student access to their education.
Rights of homeless students
The Vermont Agency of Education issued a guidance document on the rights of homeless students during the COVID-19 emergency. In short:
School districts still need to find and enroll students experiencing homelessness.
If a student becomes homeless during the COVID-19 emergency for any reason, all McKinney-Vento Act protections are still in effect.
Legal help for farmworkers
New videos by Legal Services Vermont and Pine Tree Legal Assistance give a quick overview of free, confidential legal help for farmworkers in Vermont and other New England States. In one video, two legal aid lawyers talk about workplace safety and legal protections during the COVID-19 pandemic. See our H2-A farmworkers page.
Translated COVID-19 coronavirus information 
Recent updates to this information
4/20/2021
Because of the COVID-19 pandemic, everyone in the U.S. can get a free credit report each week from all three national credit reporting agencies (Equifax, Experian and TransUnion) at AnnualCreditReport.com. This is available through April 20, 2022.
4/16/2021
4/15/2021
4/5/2021
3/30/2021
3/29/2021
The CDC director is extending the CDC eviction moratorium through June 30, 2021. Vermonters already have protections against eviction — as described on our page — as well as a statewide rent assistance program. 
3/24/2021
3/23/2021
3/19/2021
3/18/2021
The information on our COVID unemployment page now includes the new benefits from the federal American Rescue Plan Act signed on March 11, 2021. This includes:

extended Pandemic Unemployment Assistance (PUA) benefits through September 6, 2021
extended regular unemployment benefits through September 6, 2021
news that the federal government will not tax the first $10,200 of your 2020 unemployment benefits
3/16/2021