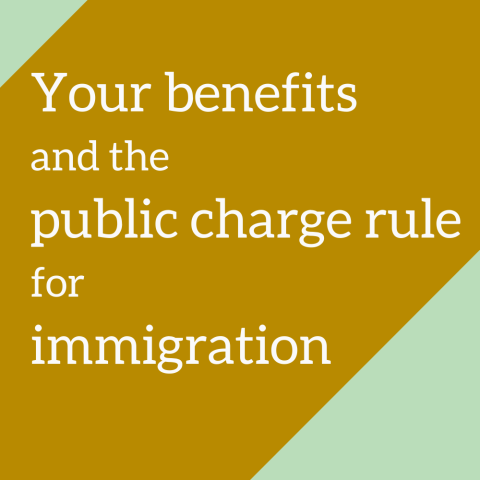 Updated 10/7/2022
"Public charge" or the "public charge test" is used by immigration officials to decide whether a person can enter the United States or get a green card.
Some families are worried that getting public benefits could affect their immigration status. However, the public charge rule does not apply to every immigrant. Many statuses are exempt from the rule.
The public charge test mostly affects people who are applying for Lawful Permanent Residence (green card) or applying to enter the U.S. If you are not sure if your status is included, call us at 1-800-889-2047.
Also, most public benefits (like food, housing, and health insurance) are safe and would not count toward public charge. Only a few monthly cash payment programs or programs that pay for long-term institutional care would be considered in a public charge test. Benefits received by exempt family members are not counted against you.
See the September 2022 news about the updated public charge rules, which take effect in December 2022.
Health care: Did you know?
Applying for regular Medicaid or Dr. Dynasaur will not impact your immigration status. Also, getting a Vermont Health Connect health insurance plan and financial help for the plan does not hurt your immigration status. Only long-term care Medicaid counts towards public charge.
Get free advice before you apply for or stop government help. Call Vermont Legal Aid at 1-800-917-7787 or visit vtlawhelp.org/health.
Ask for help
Do you want to know if you are eligible for a benefit program? Aren't sure if your legal status is subject to the public charge test? Have other civil legal questions? Call us at 1-800-889-2047 or fill out our online form. Your information will be sent to Legal Services Vermont, which screens requests for help for both Vermont Legal Aid and Legal Services Vermont. We may also refer you to other organizations for help. Our services are free and confidential.
For questions about eligibility for medical programs, contact the Office of the Health Care Advocate at 1-800-917-7787. Our services are free and confidential.
See our Immigration & Citizenship page for groups that can help you with immigration questions.
Get informed
These are helpful websites to learn more about the public charge rule: