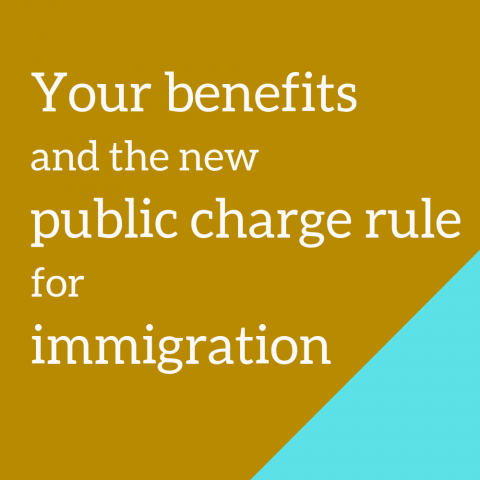 Update: October 11, 2019
Federal courts issued national injunctions blocking any implementation of the Trump administration's "public charge" regulations. As a result, the public charge regulations, which were scheduled to be implemented on October 15, are blocked across the country. Learn more on the National Immigration Law Center website.
Originally posted August 21, 2019
Unless it is blocked by the courts, the United States government will change how it makes "public charge" decisions starting October 15, 2019. "Public charge" or the "public charge test" is used by immigration officials to decide whether a person can enter the United States or get a green card (Lawful Permanent Resident or "LPR" status). On August 20, 2019, Vermont filed a lawsuit to try to stop the rule from taking effect or to delay its implementation date.
In the public charge test, immigration officials look at all of a person's circumstances, including income, employment, health, education or skills, family situation, and whether a sponsor has signed a contract ("affidavit of support") promising to support the person. Officials can also look at whether a person has used specific benefit programs, which under the rule currently in place, were limited to cash assistance programs like Reach Up (TANF). Public charge decisions look at these factors to determine if a person is likely to depend on benefits in the future, and can refuse to grant the person's application to enter the U.S. or get a green card.
Important things to know
The public charge rule does not apply to every immigrant. Many immigrants are exempt. The rule does not apply to refugees, asylees, lawful permanent residents (green card holders) applying for citizenship, and many other statuses. If you are not sure if your status is included, call us at 1-800-889-2047.
Benefits received by exempt family members are not counted against you if you are covered by the rule. For example, if you are a conditional LPR and your citizen children are on Dr. Dynasaur, your children's medical benefits are not going to be counted against you.
The rule does not take effect until October 15, 2019, and it still may be stopped by court order. Vermont has filed a lawsuit to try to stop the rule from taking effect. It will not be applied to benefits that you received before October 15.
Vermont has filed a lawsuit to try to stop the rule from taking effect and to delay it until the court makes a final decision. If you are eligible for a benefit now (the ones listed as a, b, c or d below), you do not have to end the benefit at this time. Call us at 1-800-889-2047 if you have a question about benefits.
Even if you are not exempt from the rule and you are receiving benefits, every situation is different. You can consult with an immigration attorney if you have questions about your own case.
Your personal information is protected by federal and state privacy laws. Agencies that run the public benefit programs may share information with other government agencies only for purposes of administering their programs, with limited exceptions.
Under the new rule (unless it is blocked by court order) the government will consider these benefits in the public charge test starting October 15, 2019:
Supplemental Nutrition Assistance Program (SNAP, "EBT," "Food Stamps" or "3SquaresVT" in Vermont)
Federal Public Housing and Section 8 assistance
Medicaid, with important exceptions. (The rule does not apply to Medicaid coverage for children under 21, or for Medicaid coverage for pregnant mothers up until 60 days after they give birth. In Vermont this type of Medicaid is called Dr. Dynasaur.)
Medicare Savings Programs
Cash assistance programs (like SSI, TANF/Reach Up, General Assistance)
Services that are not listed above will not be counted in the new public charge test. This includes WIC, Dr. Dynasaur, Advance Premium Tax Credit that helps pay for your plan on Vermont Health Connect, Extra Help for Medicare Part D plans, LIHTC housing, Rural Development subsidized housing, school lunches, food banks, shelters and many more. If you aren't sure if a particular benefit program is included, call us at 1-800-889-2047.
Get informed
These are helpful websites to keep up with the news on this new public charge rule:
Ask for help
Do you want to know if you are eligible for a benefit program? Aren't sure if your legal status is subject to the public charge test? Have other civil legal questions? Call us at 1-800-889-2047 or fill out our online form. Your information will be sent to Legal Services Vermont, which screens requests for help for both Vermont Legal Aid and Legal Services Vermont. We may also refer you to other organizations for help. Our services are free and confidential.
For questions about eligibility for medical programs, call the Office of the Health Care Advocate at 1-800-917-7787. Our services are free and confidential.
See our Immigration & Citizenship page for groups that can help you with immigration questions.