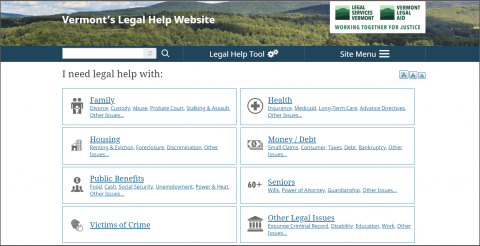 July 2, 2019
We've been working to upgrade our legal help website at VTLawHelp.org. We have launched an upgraded Drupal 8 website as the first part of this process. You will see that the website has the same content, tools and forms as before, but they have a new look.
Things to try
At the top of every page:
Type a search word or phrase into the search box.
Click on the Legal Help Tool to be guided to information.
Use the Site Menu and the + and – signs to navigate to content. When you are on a legal content page, you can also dig into all the pages in that section by using the sub-navigation menu.
Also check out the list of popular links on the homepage.
Accessibility
We've started making changes for better accessibility for people with disabilities and website users on phones. In the coming months we'll make more accessibility improvements.
Feedback
Please use our website feedback form if you find any issues with the new site. We appreciate your feedback. Thank you!