This program asks you simple questions and puts your answers in the right place, on the right form.
All you need to do is:
Answer the questions

Print out the forms

Sign the forms

File the forms with the Court (along with a filing fee, if required)
It is that easy!
CourtFormPrep gives you information about legal terms and Vermont law to help as you answer the questions. You can use CourtFormPrep for Family Division Cases, Small Claims Cases, and Probate Estates.
Click on the icon:

to select your CourtFormPrep interview.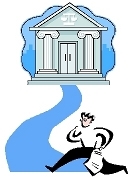 Family Division Forms include parentage, divorce, separation, support, financial affidavits and non-resident divorce/dissolution
Small Claims Forms include complaint, answer and financial disclosure
If you have any questions about the Court Forms, please contact Sheila Lowe.