ROADMAP: How to Get a Divorce in Vermont
Follow this link to learn the steps to getting a divorce in Vermont. Watch our videos, read our detailed instructions and follow the steps in our Divorce Roadmap.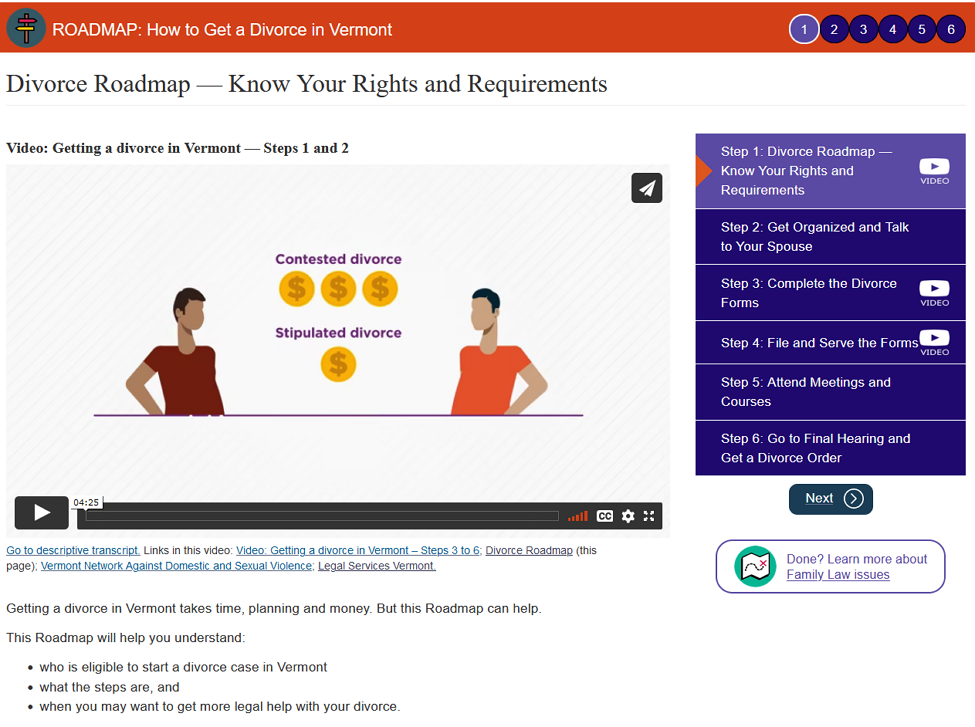 A few related questions
Q. How is a parentage case different from a divorce?
A. There are several differences between a parentage case and a divorce. In a parentage case:
The court will not decide any property issues. The only issues decided in a parentage case are parentage, custody, visitation and child support.
If either party disputes that the alleged father is the father of the child, you may have to go through a paternity test first.
The court will give a child support order but cannot give a spousal support order (alimony).
Vermont has a new parentage law covering several different ways someone can be a found to be a "parent." Learn more on our Parentage page.
Q. If I'm the defendant and I get the divorce papers in the mail, am I agreeing to everything in the Complaint if I sign and return the Acceptance of Service form?
A. No. By signing and returning the Acceptance of Service form, you are only agreeing that you got the divorce papers. You will have the chance to explain where you stand on issues at the case manager's conference and any mediation or formal hearings you may have. Learn more about the divorce process in Vermont.
More help
Contact us at Legal Services Vermont and Vermont Legal Aid by filling out our form or calling 1-800-889-2047 if you need help with:

escaping domestic violence
getting food or shelter
paying for medical care
public benefits
housing issues
federal tax (IRS) problems
foreclosure
credit card or other debt actions

Apart from the legal issues, you and your family should be prepared for the challenges that lie ahead. The Families Change website is a guide to separation and divorce. The interactive website has information for young children, teens and adults.