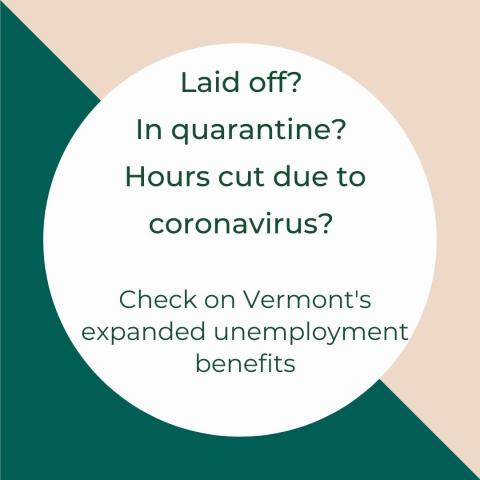 Updated on 3/30/2020 at 9:45 a.m.
If you lost your job or had your hours cut due to the COVID-19 coronavirus, you are likely entitled to unemployment compensation. Visit the Vermont Department of Labor (DOL) website for special information on COVID-19 related claims.
Apply even if your employer says not to. Employers do not make decisions about unemployment benefits — the state does.
Initial claims for unemployment compensation must be done by phone or online. The numbers to call are 1-877-214-3330 or 1-888-807-7072. The Department of Labor has created an online form for establishing an initial claim — complete the form here.
Before you contact the Department of Labor to make a claim, gather information for their list of required information. Currently the DOL is overwhelmed with phone calls so it may take some time to get through by phone.
Be sure to tell the Department of Labor about your circumstances. For example, if:
you are filing an initial claim for unemployment compensation
your job loss or reduction is directly related to the coronavirus pandemic
your employer will bring you back on as soon as possible.
Vermont DOL announced that work-search requirements are suspended until further notice. This applies to all unemployment insurance claimants, even if you started getting benefits before the COVID-19 emergency began. If you get unemployment benefits, you do not need to look for a job at this time.
If you have an existing unemployment claim and need to contact the DOL to make a weekly report, you should do that online if possible, as phone lines are busy. Once you have established a claim, you can make a weekly report online.
If you have general questions about unemployment, you can search the Department of Labor website as it will likely be difficult to get through by phone.
If you lost your job or had your hours cut due to COVID-19 and you are denied unemployment compensation, contact us for help.